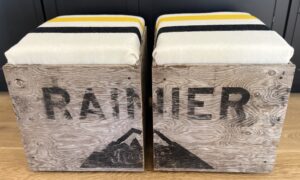 The Third Annual PNWSEF Virtual Auction will be held 9am Sept 25 – 9pm Sept. 29.  There will be lots of great items to bid on and all proceeds will support PNWSEF.  The foundation is a 501(c)3 and supports athletes, coaches and officials in the Pacific Northwest with grants and scholarships to help offset the costs of competition and education.  
Here's a peek at one of the items up for bid:
"My name is Eli Sundquist. I am 13 years old and race for White Pass Ski Club in Washington
State. I have a passion for ski racing because I love being in the
mountains, I love the process of getting better and I enjoy skiing with my friends.  
Ski racing has brought a profound sense of accomplishment, many
friendships, and an opportunity to visit a variety of places.
However, there is a time in this sport when it becomes expensive. I have
started to help fund my ski camps and fees myself. I have been making handmade
furniture cubes assembled from old, recycled apple bins and apple tree props
from our four-generation family apple, pear, and cherry farm, Sundquist
Fruit.  
To make the boxes, I find old apple bins from our farm and
disassemble them by pulling the panels off. I then go to my prop wood pile, cut
the legs to size, and sand and screw the panels to the legs. After everything
is assembled, I upholster the top with wool Pendleton blankets and sign the
bottom. Other local fruit families have also asked me to use their bins. 
I am very thankful for the opportunity to homeschool and race for
White Pass Ski Club, all of which gives me a strong sense of independence."
These one-of-a-kind furniture cubes are $550.00 per pair. Fifty dollars from each pair will be donated to the Pacific Northwest Ski Education Foundation.  So far, Eli has donated $250 to PNWSEF.  Now he is going bigger, donating a set (2) of these great furniture cubes to the PNWSEF Virtual Auction.  Thank you, Eli, for this wonderful donation and for the work you are doing to further your ski racing career.